Cocos Services
Cocos Creator from v2.0.7 began to add a Service panel to the Menu bar -> Panel, through the Service panel, users can quickly integrate services for the game.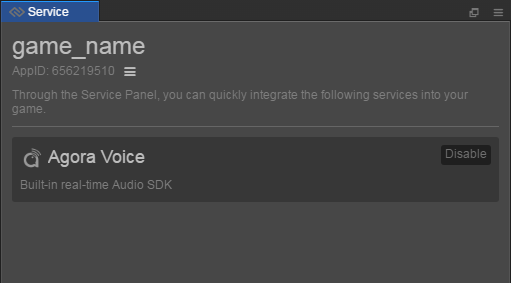 The Service panel currently supports integrated Agora Voice. Please refer to Agora Voice for details.
Usage
First, open Cocos Creator, choose Menu bar -> Panel -> Service to open the Service panel. Click the

button above the Service panel. Select Dashboard and go to the Cocos Account Center to register your user account.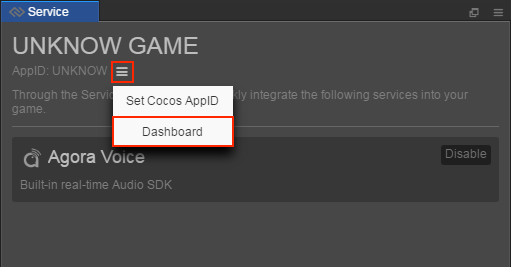 Create Personal/Company games as needed after account registration is complete:

Second, after the game is created, return to the Cocos Creator Service panel and click the

button. After selecting Set Cocos AppID, jump to the Set Cocos AppID panel. Then select the game and click the Association button.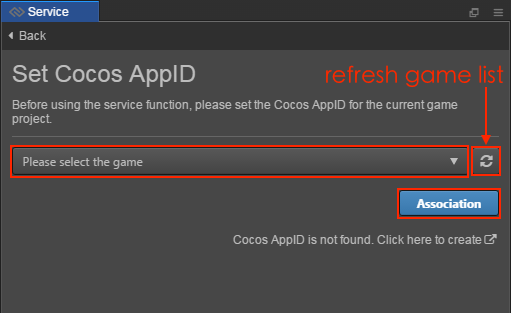 You can create a game by clicking the Cocos AppID is not found. Click here to create button to jump to the Cocos Account Center.
Third, when the AppID setup is complete, it automatically jumps to the Service panel, where you can see that the game name and AppID are already displayed at the top left of the panel.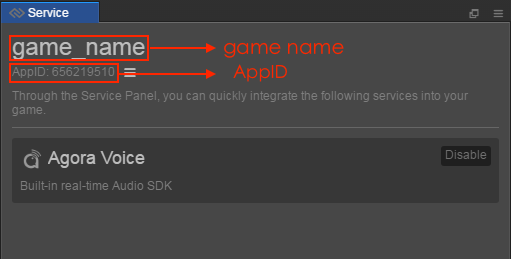 If you need to switch games, you can click the

button again to select Unlink. Then go to the Set Cocos AppID panel again and re-select the game.