DragonBones component reference
DragonBones components render and play to skeleton animation (DragonBones) resources.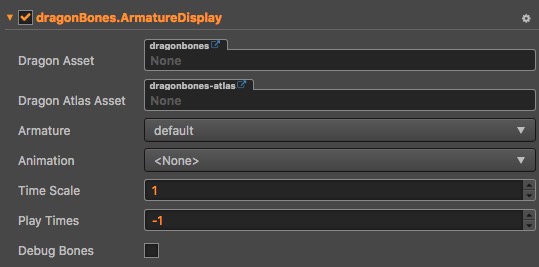 Click the Add Component button at the bottom of the Properties panel and select DragonBones from Add Rendering Component to add the DragonBones component to the node.
The operation of the DragonBones component in the script refer to the DragonBones test in the example cases.
DragonBones attribute
Attribute
Function Explanation
Dragon Asset
The DragonBones data contains the armatures information (bind pose bones, slots, draw order,attachments, skins, etc) and animations but does not hold any state.
Multiple ArmatureDisplay can share the same DragonBones data.
Dragon Atlas Asset
The atlas asset for the DragonBones.
ArmatureName
The name of current armature.
AnimationName
The name of current playing animation.
Time Scale
The time scale of this armature.
Play Times
The play times of the default animation. (-1 means using the value of config file, 0 means repeat for ever, >0 means repeat times)
Debug Bones
Indicates whether open debug bones.
Note: When the DragonBones component is used, the Anchor and Size of the node are invalid.